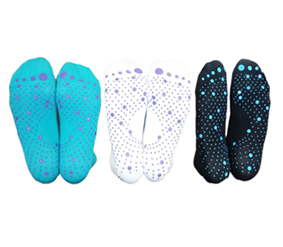 APPI Pilates Socks
​The APPI Pilates Sock has been designed with a non-slip sole and a seamless toe. The APPI Pilates sock helps with balance, control and gripping of equipment, floor surfaces, and mats. The Socks design also includes 'unique reflexology points' on the sole of the foot.
The APPI non slip socks are ideal for use in:
Pilates
Yoga
Exercise
Healthcare
Home
One size fits all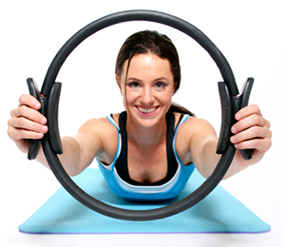 Pilates Circle
​Add resistance and endurance to your workout with the APPI Pilates Circle. The Pilates Circle can also be used to improve flexibility, balance and posture.
Dual handles for complimentary resistance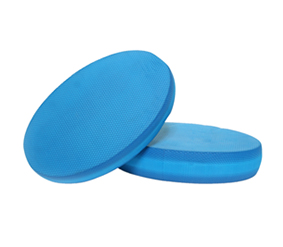 Oval Balance Pads
​Challenge your core control, balance and posture with this soft, multi-directional foam pad. Get steady on your feet by learning to stand with control and poise using these unique balance pads.
The versatile balance pad is ideal for rehabilitation and sport conditioning:
Balance training
Standing and sitting posture and stability training
Coordination and timing training
Functional retraining for the muscles of the hip, knee, foot and ankle
Amateur and professional sports rehabilitation
Colour: Blue
Size: 5.5cm(H) x 18cm(W) x 30cm(L)
Come packaged in pairs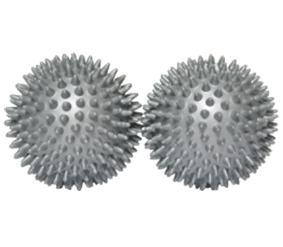 Massage Balls
 Massage Balls are great for home use in massaging the feet, elongating and releasing tight muscles such as the erector spinae and piriformis and for providing self massage for the trapezius and lower back muscles.
Packaged in pairs
Colour: Silver Size: 9cm Diameter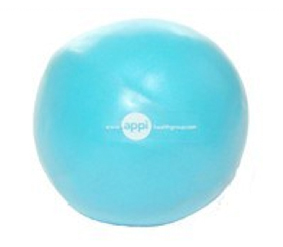 Soft Pilates Ball
The Soft Pilates Ball is designed to target and strengthen those hard to get muscle groups. It is also a brilliant support tool that can be inflated/ deflated to suit the exercise. Ideal for neck pain.
Safe anti-burst material
Environmentally friendly
Latex Free
Colour: Turquoise Diameter: 18cm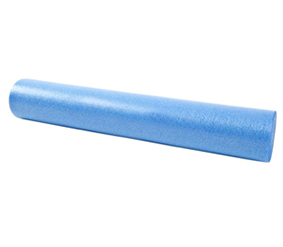 Blue High Density Foam Roller
A much improved quality and durability in this all time favourite roller.
The foam roller is extremely durable and has been designed with high density foam to promote balance and stability. Use the roller to challenge core stability, improve balance reactions and mobilise the spine.
Size: 90cm x 15cm -suitable for those up to 6ft tall
Colour: Blue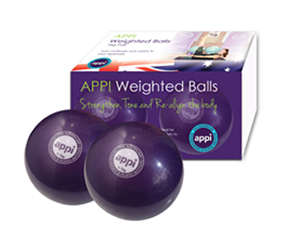 APPI Weighted Balls
Brand New! APPI Weighted Balls – 0.5kg Pair 1kg Pair
These brand new 0.5kg or 1kg APPI pair of Weighted Soft Balls can be used to strengthen, tone & re-align the body.
This great quality pair of weighted soft balls are ideal for use at a class or at home to add challenge and variety to your repertoire.
Easy to grip. Surface washable. Latex Free
Colour: Purple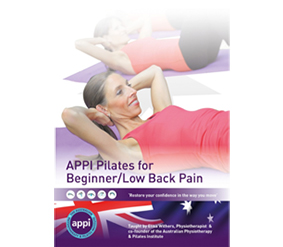 APPI Pilates DVDS
A large range of APPI Pilates DVDS available including Beginner, Intermediate and Advanced Matwork programs. Sarah has also produced 2 Standing Pilates DVDs at Beginner and Intermediate level. There are also DVDS using the Pilates circle and Foam roller. For more titles and information please contact info@brookpilates.co.uk.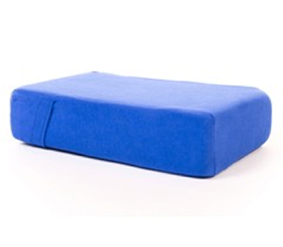 Pilates Head Pad 1 or 3 Inch
Use the Pilates 1 and 3 inch head pads to support the head and neck for those with more pronounced cervical protraction. The head pad can also be used for support under the hands and knees and can be placed under the lower back to help release hip flexors and maintain neutral alignment.
The head pad comes with a removable cover.
Contact us today about joining up